Went to a great writers conference over the past weekend. It was a two-day extravaganza packed with lots of fun and informative classes. I attended several on the subjects of editing, writing kid lit, getting a literary agent, dealing with productivity and self-doubt issues (something all writers must deal with) and more.
The keynote speaker was Scott Westerfeld, author of the young adult Uglies series among others. His talk was informative and inspiring.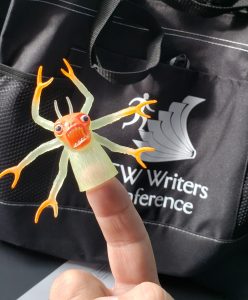 I also got a kick out of the class on managing self-doubt, taught by Colleen Story. She helped attendees put a face on their self-doubt, a certain prerequisite to killing it off. Mine's pictured at right.
All in all, a great conference and one I won't miss from now on.